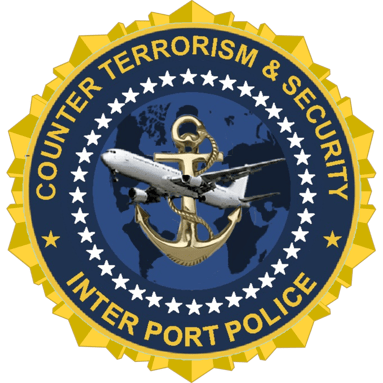 INTERPORT
POLICE
A contraction for the International Organization of Airport & Seaport Police

Over the years, the intensity of international crime affecting local and regional authorities has escalated; where criminals fear no borders to worry about, the INTERPORTPOLICE plays a valuable role in international law enforcement and security, working with global forces addressing the protection of aviation, maritime and borders for public safety, critical infrastructure to serious transnational crime.
Authorities, police, public safety, intelligence and security whose country are members of the United Nations, INTERPOL, or specifically invited are eligible for member admission; and work together to make our jurisdictions, community and nations safer.
The organization is funded by the authorities however, observation status can be granted.








Our emblem and shield were updated for the first time in 2011 since 1972. Added are 37 stars representing our fallen colleagues from the Port Authority of New York and New Jersey Police Department on September 11, 2001. These stars are a continuous reminder never to forget our fallen officers and officials and to those who follow in their path, working every day to fight terrorism and serious transnational crime. Fred V. Morrone, Superintendent of Police and Director of Public Safety of the Port Authority of New York and New Jersey Police, was the INTERPORTPOLICE's executive vice president and incoming Board President.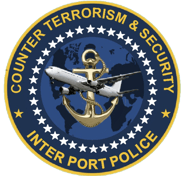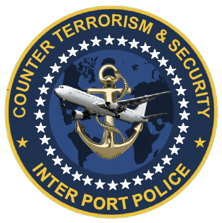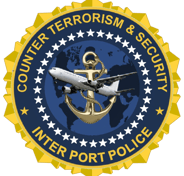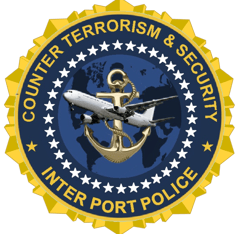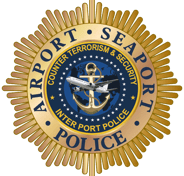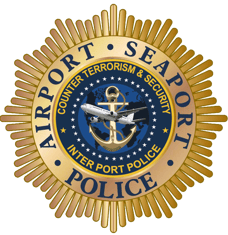 The INTERPORTPOLICE is governed by an executive board of police authorities, and an executive team with experience in policing, security services, risk mitigation, and diplomatic & public affairs that brings a multitude of experiences, coupled with the collaboration of our member authorities, allowing for first-hand knowledge, experiences, and lessons learned outcomes to enhance the authority environment security and safety.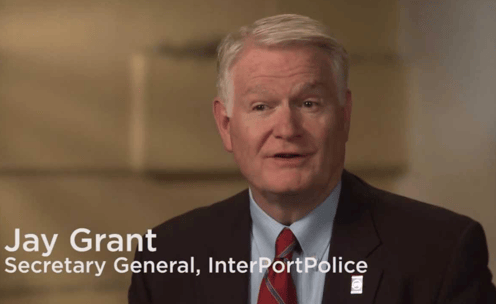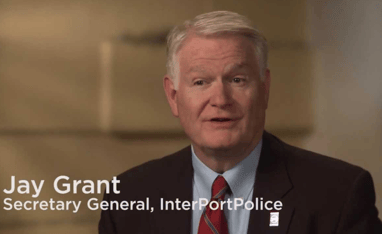 Appointed on September 10, 2010, serving his third and last five-year term as the 5th Secretary General.
The Secretary has been a visible leader in international transportation security for over 20 years. After 9/11, he served as Director of the U.S. Port Security Council, coordinating legislative and appreciations, securing billions in security grant funds for the U.S. port authorities in the aftermath. His work with port authorities and governments has primarily focused on security and law enforcement projects, intelligence and other operational issues such as incident management, pilot programs, and security evaluations. After the work with the U.S. ports, the Secretary's focus became global when appointed as the Director and Secretary General in September 2010. This has led to extensive worldwide authority work, including Australia, U.S., EU and UK airports, seaports, and border police departments, as well as with other UN countries to find cooperation, training, and security programs as a key objective.
During his time when the U.S. Department of Homeland Security was being stood up, he was instrumental in Homeland Security's initial Security Border Initiative (SBI) unmanned aerial vehicle (UAV) program on the Arizona border and was a member of the red team for the $10 billion border security initiative integrator selection, as well as several other port and border security initiatives. During this period, he was an advisor to Undersecretary Asa Hutchinson at DHS – Border Transportation Security.
The Secretary is a serving Commissioner of a Port Authority. Before becoming Director of the U.S. Port Security Council, he served as the Chief Washington Legislative Counselor to the State of Arkansas. In addition prior, he served as legislative counsel before the U.S. Congress and multiple state agencies. His initial political efforts began working for Senator Henry "Scoop" Jackson (D) Washington, in his bid for the U.S. Presidency, after his military service in the U.S. Air force. He holds several awards, citations and commendations, including the 9/11 Medal.
Joseph Lawless IPM, CHS-V Board President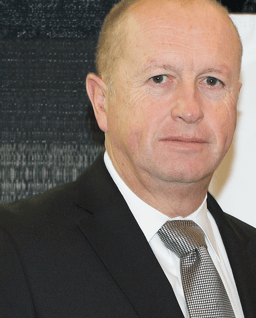 Joseph Lawless serves as the 23rd Board President. Lawless was formerly the chief law enforcement and security officer for MassPort's maritime properties in South Boston, East Boston, and Charlestown. While at MassPort, Lawless was in charge of developing and implementing policing, security and emergency planning strategies for all facilities. Lawless created and chairs the weekly Port Security Operations meeting, a public and private security collaborative attended by representatives of over twenty different agencies and corporations. Lawless received the 2012 International Police 9/11 Medal for Extraordinary & Distinguished Lifetime Achievement in fighting terrorism and trans-national crime from the International Organization of Airport & Seaport Police.
Lawless has 37 years of law enforcement and security experience, including more than 13 years with the Massachusetts State Police Uniform Patrol, Criminal Investigations, and Executive Protection units. He came to Massport in 1993, overseeing all aspects of public safety. In this role, he oversaw Logan Airport-based Troop F of the Massachusetts State Police. During this time, Troop F became the first law enforcement entity accredited by the International Association of Airport and Seaport Police for its commitment to excellence. He is the Senior Transportation Security Specialist for The Edward Davis Company.
Chris Trelawny IPM Deputy Security General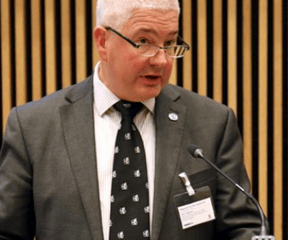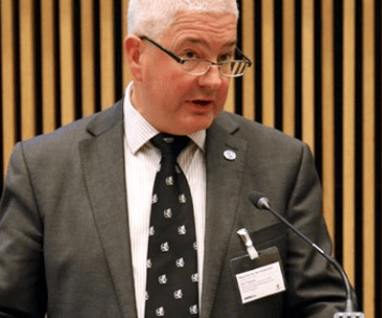 Chris Trelawny was commissioned as Deputy Secretary General of INTERPORTPOLICE on 1 January 2022. Before that, Chris served the International Maritime Organization (IMO), having joined in March 2003 as a maritime security specialist, serving as Head of Section, Senior Deputy Director and, in November 2014, Special Advisor to the Secretary-General on Maritime Security and Facilitation. In 2018 he was appointed to the new post of Chief, Sub-Division for Maritime Development within the Technical Cooperation Division (TCD).
From January to October 2020, he was Acting Director of TCD. He left IMO in December 2021.
Before joining IMO, Chris spent six years with the International Civil Aviation Organization (ICAO) as the Aviation Security Training Officer (also leading on air cargo security) and four years with the UK Government in aviation security roles, including the introduction of the UK air cargo security programme; and eight years with HM Customs in law enforcement roles, largely at Heathrow Airport but also at sea on HM Customs Cutters. Chris served for 30 years as an officer in the Royal Naval Reserve and is a Younger Brother of Trinity House.
Neville Hay AVSEC PM, MSyl Director of Training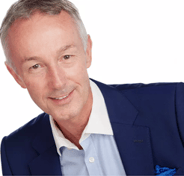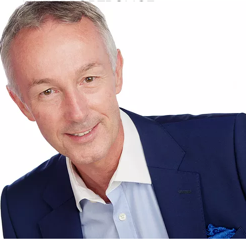 Neville Brooklyn Hay operates within aviation, maritime, corporate security, and policing environments. He has wide-ranging operational and tactical experience. He has worked closely with the UK's strategic security environment and with many key stakeholders within the aviation industry, UK government departments, and law enforcement agencies, both National and International. A graduate of the ICAO Avsec PM programme and faculty member for ACI Global training. His functional expertise lies in risk and threat assessment and mitigation, operational situation and intelligence analysis, and law enforcement within the aviation, transport, and infrastructure security environments. Prior he was a UK special branch police officer until his retirement.
Andrew McCumpha Head, Practices and Standards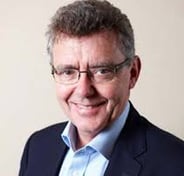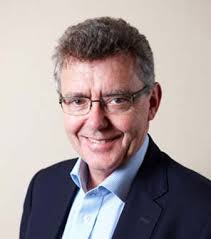 Andrew McClumpha has over 30 years of experience in critical national infrastructure security, providing strategic advice, delivering solutions, and developing products. He has worked with multiple government security regulators, legislators, trade group associations, and entities such as ACI (World and Europe), IATA, etc. Through this, he has helped to achieve the highest standards of security provision and operational resilience through enhanced human, operational, and organisational efficiency. He is Head of Standards and Practices for INTERPORTPOLICE. and Director of McClumpha Associates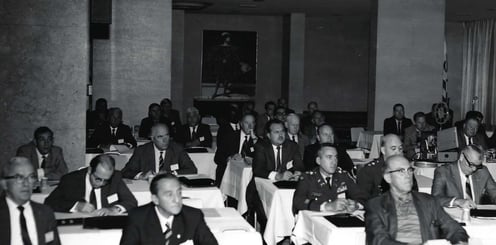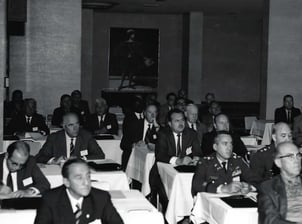 The INTERPORTPOLICE bears a 53-year tenure.
In 1968 and 1969, international law enforcement leaders met as a steering committee to establish an international port authority police organization to ensure international cooperation. In 1969 at the third meeting held in Los Angeles, California, the organization was formally established through international MOUs with the Agencies. In 1970 the organisation's first meeting was held at the Massachusetts Port Authority, "Massport", with senior command police from around the world attending (pictured above-left). In 1974 airport authorities were added, and as often it was the same jurisdiction added, and the names Airport and Seaport were changed to the International Association of Airport and Seaport Police (IAASP).
In 2010, a new charter was adopted to include transport and border jurisdictions whose activities correspond to public transportation security, and the supply chain within aviation and maritime was added to reflect the additional disciplines working within the maritime and aviation sector.
T
oday rail, transit, surface transportation, border and customs contribute to the supply chain and passenger transportation. With the additions of disciplines, it was decided rather than continue to grow the acronym and to reflect an operational international organization would adopt the contraction INTERPORTPOLICE representing International Airport, Seaport, Transport and Border Police. The INTERPORTPOLICE contraction is one word. This was patterned after INTERPOL as they use the contraction representing their name, the International Criminal Police Organization.
​
First International authority meeting - Massport Authority - Boston, MA 1970
We are honoured by their outstanding service. Jurisdiction member authorities put forth a commanding officer to preside as the board president to oversee our regional officers. To date, 22 chiefs, superintendents, chief constables and director generals from 8 countries served as president of the board.
Board Presidents
2017 - 2022 Chief Joseph Lawless: Massport Police Department, United States

2010 – 16 Chief Ronald Boyd: Port of Los Angeles Police Department, United States

2007 – 09 Chief Russell Whitmarsh: Houston Port Authority, United States

2001 – 07 Chief Superintendent Henk van Unnik: Port of Rotterdam, Seaport Police, Netherlands

1999 – 01 Chief Noel Cunningham: Port of Los Angeles, United States

1997 – 99 Brigadier General Saad M. Al–Shuhayeb: Saudi Arabia

1995 – 97 Chief Ronald Driscole, United States

1994 – 95 Assistant Commissioner Laban Kauga, Tanzania

1992 – 94 Chief Superintendent Robert Bertelson, United States

1990 – 92 Chief Superintendent John Boyle, United Kingdom

1988 – 90 Superintendent Peter L. K. Lee: National Police Agency, Asia

Pacific1986 – 88 Colonel Rokus den Breejen, Netherlands

1984 – 86 Lt. Colonel Frank Mazzone, United States

1982 – 84 Commissioner Fred Bean,OBE, Bermuda

1980 – 82 Chief Ray Havens, United States

1978 – 80 Superintendent Walter Lee, United States

1976 – 78 Chief Constable Eric Ellen, United Kingdom

1975 – 76 Superintendent Theodore Ciunyk, Canada

1974 – 75 Chief Thomas Jones, United States

973 – 74 Chief Constable DCW (Peter) Gannon, United Kingdom

1972 – 73 Chief Lewis Brown, United States

1971 – 71 Captain Robert Herzog, United States

1970 – 71 Director General Donald Cassidy, Canada

1969 – 70 Board Only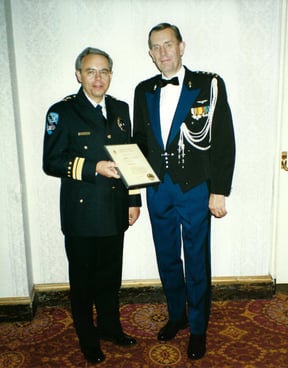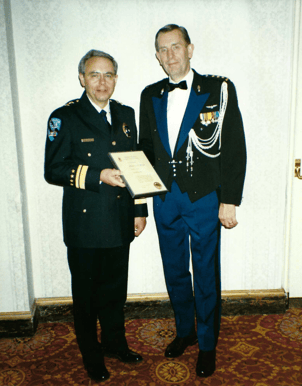 Secretary General Tim Kimsey presenting a lifetime award to Col. Fred Maurer upon his retirement in 1996.
Secretary Generals
Commissioner Jay Grant, United States

Chief Michael Toddington, Canada

Chief Tim Kimsey, United States

Chief Eric Ellen, United Kingdom

Chief Donald Cassidy, Canada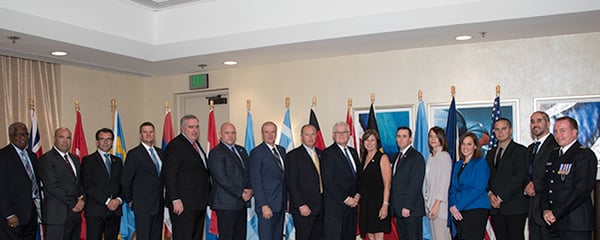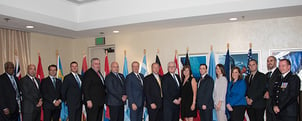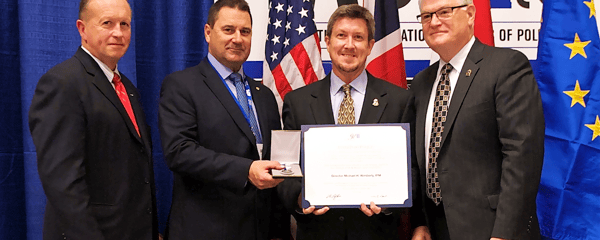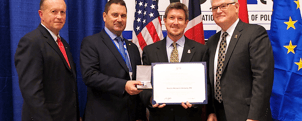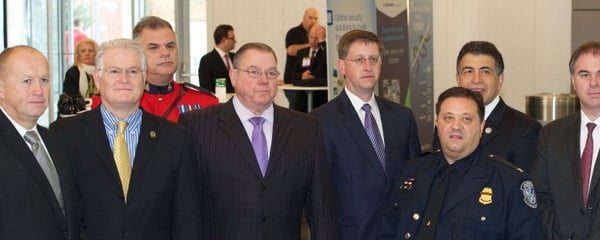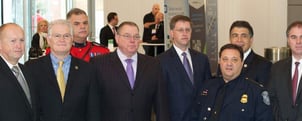 9/11 Security Innovation Awards