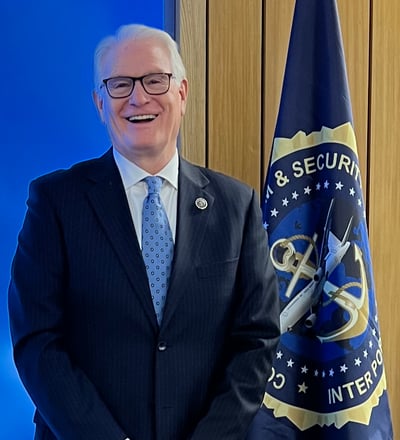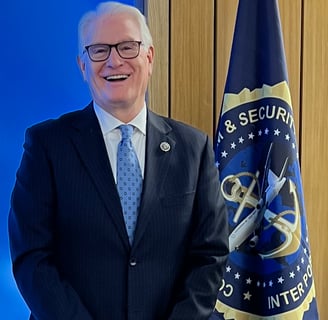 The Secretary has been a visible leader in international transportation security for over 20 years. Over the course of his last 13 years as Secretary, he has traveled the world working with police and government officials in cooperation with various security, supply chain, intelligence, and related initiatives. Incident management outcomes in mass people environments have been a particular focus. This has strengthened best practices and spotlighted how to enhance communication requirements moving from operational to crisis management situations. Some of the most recent focus has been on cyber security, bringing practical solutions from the essentials of community cybersecurity to community preparedness. Our staff has been crisscrossing the globe, working on aviation, maritime, and border security issues with jurisdictions and education programs including our extensive work with NATO - CJOS COE and UN agencies and programmes.
After 9/11, he served as Director of the U.S. Port Security Council, coordinating security legislative requirements and securing billions in grant funding for security and operational projects for the U.S. port authorities in the aftermath. His work with port authorities and governments primarily focused on security and law enforcement projects, intelligence, and other operational issues such as incident management, pilot programs, and security evaluations. After working with the U.S. ports, the Secretary's focus became global when he was appointed Director and Secretary General of the INTERPORTPOLICE in September 2010. This has led to extensive worldwide authority work, including AU, EU, UK, and US airports, seaports, and border police departments, as well as with other UN countries, to find cooperation, training, and security programs as a key objective. A key accomplishment is the Community Security Best Practice, a multi-national - authority best practice focused on mass aviation and maritime public safety and critical infrastructure prevention, protection, and preparedness.
At the time prior to the standing up of the U.S. Department of Homeland Security and when in its infancy; projects included federal legislative and funding issues, port security grants, Port credentialing (TWIC), aviation screening systems, Custom Trade Partnership Against Terrorism (CT-PAT), and the Security Border Initiative (SBI) unmanned aerial vehicle (UAV) program on the Arizona border, a $10 billion border security initiative integrator selection. During this period, he was an advisor to Undersecretary Asa Hutchinson at DHS – Border & Transportation Security.
Appointed on September 10, 2010 6th Secretary
Chris Trelawny was commissioned as Deputy Secretary General of INTERPORTPOLICE on January 2, 2022. Prior, Chris served the International Maritime Organization (IMO), having joined in March 2003 as a maritime security specialist, as Head of Section, Senior Deputy Director, and, in November 2014, Special Advisor to the Secretary-General on Maritime Security and Facilitation. In 2018 he was appointed to the new post of Chief the Sub-Division for Maritime Development within the Technical Cooperation Division (TCD).
From January to October 2020, he was the Acting Director of TCD. He retired from the IMO in December 2021
.
Before joining IMO, Chris spent six years with the International Civil Aviation Organization (ICAO) as the Aviation Security Training Officer (also leading on air cargo security) and four years with the UK Government in aviation security roles, including the introduction of the UK air cargo security programme; and eight years with HM Customs in law enforcement roles, largely at Heathrow Airport but also at sea on HM Customs Cutters. Chris served for 30 years as an officer in the Royal Naval Reserve and is a Younger Brother of Trinity House.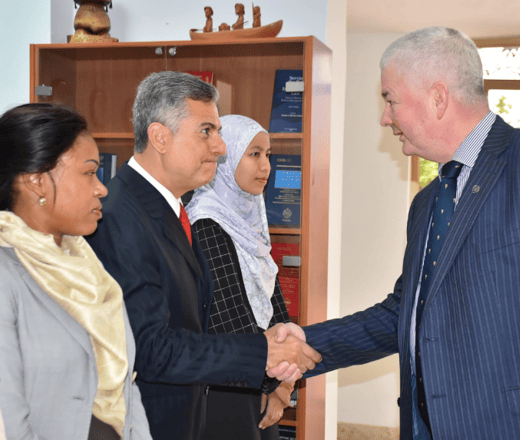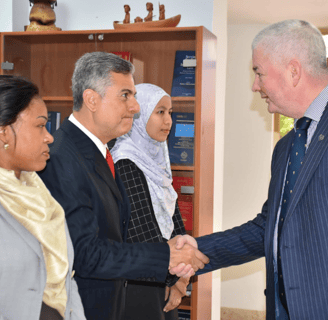 Appointed January 2, 2022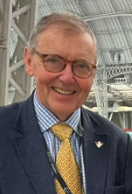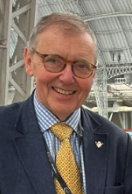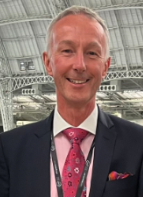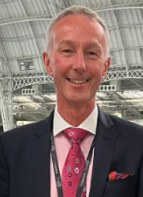 Andrew has over 25 years of experience in transport and maritime security, providing strategic advice, delivering solutions, and developing products to help achieve the highest standards of regulatory compliance, security provision, and operational resilience through enhanced human, operational, and organizational efficiency. His work includes standards and practices for work for the UK's National Protective Security Authority, Airports Council International, and International Civil Aviation Organization.
Neville Brooklyn Hay is the head of training and coordinates the aviation, maritime, security, and policing environments. As a retired UK police officer - special branch, his operational and tactical experience is wide-ranging. His functional expertise lies in risk and threat assessment and mitigation, operational situation and intelligence analysis, and law enforcement within the aviation, transport, and infrastructure security environments. He is a graduate of the ICAO Avsec PM programme and a faculty member for ACI Global training.