IMO/INTERPORTPOLICE SECURITY SYMPOSIUM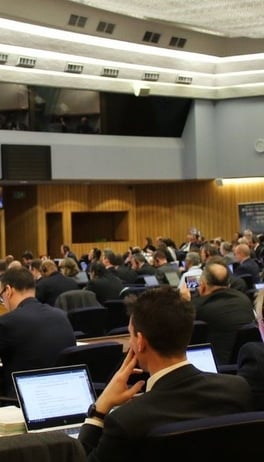 Invited Participants
IMO Delegates and Those who are in law enforcement, security, public safety, border, and government agency staff who are interested in maritime security.
The symposium will provide background information on a range of criminal activities related to ports and shipping, including corruption, fraudulent documentation and illegal wildlife trade; and will consider, through interactive discussions, ways to better address law enforcement challenges in the maritime supply chain, in order to improve facilitation of international maritime traffic.
IMO/INTERPORTPOLICE - Welcome and Introductions

IAHP. FAL in context - Maritime Single Window Update

INTERPORTPOLICE = Community Security Practices

Maritime Anti-Corruption Network (MACN) - Panel Discussion

TBC = Illegal Wildlife Trade Update

IMM (ICC-CCS) - Addressing criminal activity in the supply chain

INTERPORTPOLICE - Conclusions, recommendations and way forward

IMO/INTERPORTPOLICE - Closing remarks
The Symposium will be conducted in English without interpretation and will also be streamed on the IMO YouTube channel. Further details regarding the arrangements are set out in annex 1.
Registration is mandatory for active participation onsite and online.
Visa support letters can be provided upon request once registration has been completed.
Additional information can be obtained by contacting us in London at: IMO@interportpolice.org
Download the Agenda | Circular document
Download IMO Corporate Hotel Rates
UK Government Security & Police Event
Each year the UK Government host the international community for a closed trade event on March 14 and 15. If you are interested in attending please see the link to sign up. The INTERPORTPOLICE Staff will attend on March 15th.